Pre-registration: ANA 38th International Annual Convention
July 29, 2019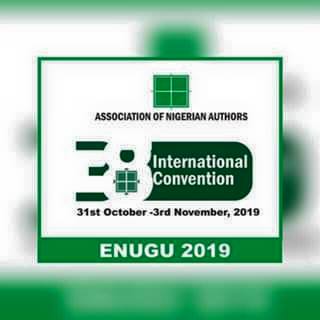 Pre-registration: ANA 38th International Annual Convention
Dear ANA Chapter Executive Councils,
LIST AND PAYMENTS: 38th INTERNATIONAL ANNUAL CONVENTION
Fraternal greetings from the National Executive Council,
In line with the preparations for the 38th International Annual Convention holding at Enugu, Enugu State from Thursday 31st - Sunday 3rd October,2019, with the theme " Literature, Nationalism and the Poetics of Integration" we request that you furnish us with a list of delegates attending the 2019 Convention from your chapter on or before the 11th of October, 2019.(No list or payment will be accepted after this date.)
You are also requested to encourage your members to pay the appropriate Convention Fees and Annual Dues, due to the National Executive body on or before the 11th of October, 2019 as follows:
Early Bird payment within the months of August - September, 2019.
Annual Dues + Convention Registration fee: N10,000 (Ten Thousand Naira Only)
Payments from 1st- 11th October, 2019.
Annual Dues + Convention Registration + Late registration: N15,000(Fifteen Thousand Naira Only)
Please note that Only ONE designated officer, the Chapter's Secretary, Chairman or Treasurer, can make payments on behalf of Chapter's delegates to the account details given below. These officers should ensure that payments received are promptly paid into the following designated account:
Association of Nigerian Authors
Zenith Bank Plc
Account No. 1014606745
After payments are made, the details of such payments, including names and chapters of the paying member(s) or guest(s) should be immediately sent as an email to anaexco2015@gmail.com
Please note that attending delegates and State Chapters are requested to make their own accommodation arrangements. The LOC is on hand to provide advisory services in this regard. They are already working on getting discounted good hotel accommodation rates and addresses to pass on to interested States Chapters.
SPECIAL NOTICE OF ACCREDITATION PROCEDURE FOR THE 2019 CONVENTION
No one who will be attending the convention as a member and duly accredited delegate is excluded from this pre-registration arrangement. Members who may not be attending the Convention are advised to pay into the account of the Association(Zenith Bank Plc 1014606745) their annual membership dues to the of N5000 only due to the National for the year 2019 before or after the Convention.
The 2019 Convention is an elective one and the accreditation process will strictly adhere to laid down rules and regulations determining FULL and financially up-to- date membership of the Association. Determination of financially up-to-date membership will be enforced strictly with this coming convention and compulsory payment of membership dues regardless of the attendance of convention started counting from the year 2016 as had been stated since 2016. Full and old members of the Association must have attended at least one of the last four conventions (2015-2018) and must be financially up-to-date (having paid the annual dues (N5,000 yearly) for the convention(s)they might have missed since 2016 to be accredited as bona fide delegates at the AGM and be allowed to vote or be voted for at the elections. It should also be noted that Chapters which have refused to submit their membership database forms to the National Secretariat risk not been accredited for the AGM including Chapters where formal activities of the Association have been suspended and still under the care of appointed sole administrators. Chapters that have not submitted their membership database forms are hereby given till the end of August 2019 to submit their forms for processing into the ANA National Membership Database. It should be noted here that secondary school students and undergraduates of tertiary institutions across the country are considered as Associate Members in ANA and can only attend the convention as participants and observers and are ineligible to actively participate in its AGM. First time attendees at ANA conventions, regardless of who they are, also have the same status as Associate members. These provisions have always been in force at ANA national conventions regardless of the membership format and status at the ANA chapters' level. Please note that the Association has well- kept records of full, financial members and registered attendees of its conventions which are used to regulate membership rights and privileges at all times; inclusive of this forthcoming 2019 convention.
The National Executive Council needs your compliance in order to effectively conduct delegates, distinguished Congress members and our special guests through the ceremonies in an efficient and accountable manner. Clarifications on any issue regarding this pre-registration guidelines for the 2019 Convention should be sought from the national secretariat.
Please circulate this notice widely among your members.
Thank you for your anticipated compliance and understanding.
Denja Abdullahi
President, ANA.
29th July,2019.